The NGO A.D.E – Les Amis Des Enfants is completely independent
Children are allowed to have the best, they are the new generation, to engage for them and with them is essential for our planet's evolution.
– Quote Muriel Tran Ercolano, President and founder of the NGO A.D.E – Les Amis Des Enfants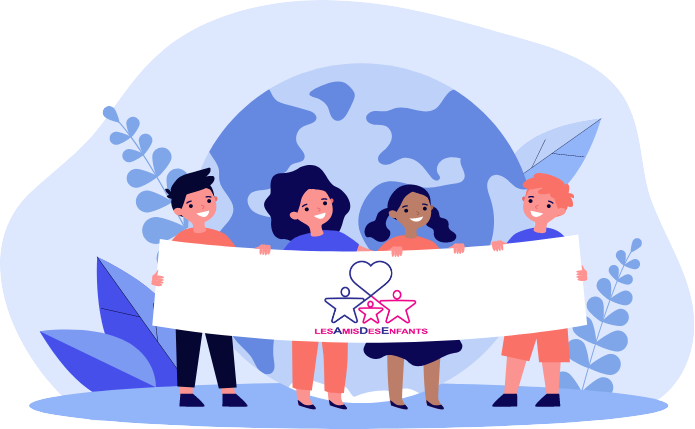 "ONLY LOVE to save lives" by Muriel Tran Ercolano
Help us to support A.D.E's projects by purchasing the book "Only love" at
the price of € 17 fully transferred to the A.D.E NGO children.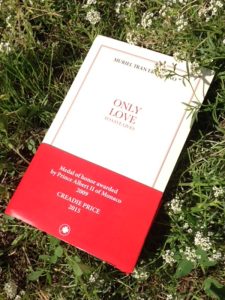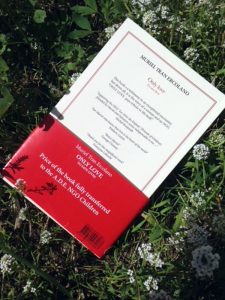 ACTION IS NOW
With Sister Emmanuelle and Sister Sara
"Help me Muriel, to find artists, decision makers, change makers, business leaders and others
who would agree to contribute to help us …"
– Sister Emmanuelle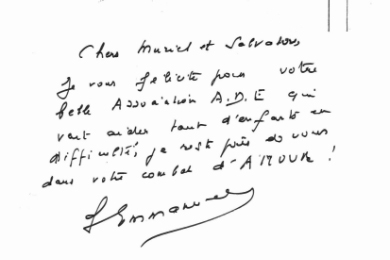 On July 17th, 2003, Sister Emmanuelle asked Muriel Tran Ercolano to found – Les Amis Des Enfants – A.D.E at the time of the Darfur crisis – "The situation in Sudan is the most serious and profound of the humanitarian crises that the planet is going through" – The NGO A.D.E – Les Amis Des Enfants must help to put the sacrificed children and mothers back on their feet.
The official launch took place on January 8th, 2004 in Nice while a conference attended by Sœur Emmanuelle, was held: "Women and their role in the world".
The NGO is totally independent, it is the last "Sister" association that benefits from a specific contract requested and signed by Sister Emmanuelle.
Sister Sara, faithful collaborator of Sister Emmanuelle, continues her wills and supports her actions in favor of A.D.E. NGO.
Monica Bellucci, Sister Emmanuelle and Sister Sara are the honorary godmothers of A.D.E NGO – Les Amis Des Enfants and Michel Boujenah is the «godfather of heart».
A.D.E raises funds in accordance with the laws of the concerned countries, non-profit and with complete autonomy toward states and existing organizations.
98% of the funds raised are entirely redistributed in the field.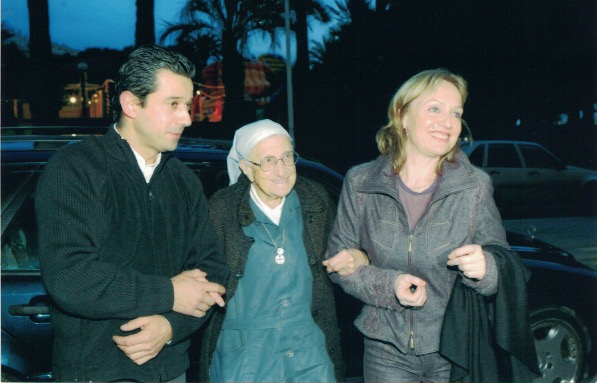 Operating costs are covered by sponsorship. All travel expenses are covered by the volunteers who travel in the countries.
The NGO A.D.E – Les Amis Des Enfants- is supported by the Ministry of Foreign Affairs as well as by the Ministry of National Education to intervene in schools.
The NGO has obtained special consultative status with the UN in New York. Then A.D.E NGO is allowed to participate in international conferences within its scope, and organized by the United Nations.
In November 2009, Muriel Tran Ercolano received the medal of honor of Knight of the Monegasque Associative Order to reward her commitment with A.D.E.
"Children are the future of humanity"
Mission
A.D.E is a competent goodwill union. Volunteers are of all ages, professions and social backgrounds: lawyer, banker, chef, business executive, sales representative, counsellor, consultant, writer, sports instructor, teacher, entrepreneur, accountant, HRD, postman, civil servant, nurse, IT , engineer, journalist, doctor, photographer, drama teacher, fashion designer, mothers, grandparents, students and high school students.
A.D.E has commercial partners, institutional partners, the NGO is supported by personalities, local and national artists.
A.D.E is part of Sister Emmanuelle associations' network (ASASE, « Opération Orange »).
The NGO is a partner of AMADE Worldwide (Princess Grace's association) which head office is in Monaco.
A.D.E is a partner of CARITAS Monaco.
The objectives of A.D.E's actions :
The objectives of A.D.E's actions :
Food security and access to drinking water.
The fight against extreme poverty.
The reduction of child mortality and the care for the mothers.
Professional training and professional integration.
Since the official launch of ADE – Les Amis Des Enfants in 2004, with the help of volunteers and sponsors, numerous events have been organized: concerts, charity evenings, dinners, gala evenings, auctions, shows, sales of 55 tons of fruits for the action :1 fruit = 1 euro = 1 week of childcare (fruit sold 1 by 1), conferences held in schools, high scools, universities and companies, raising awareness about sustainable development …
All the funds raised during those events were fully put into field projects, along specific recommandation given Sister Emmanuelle.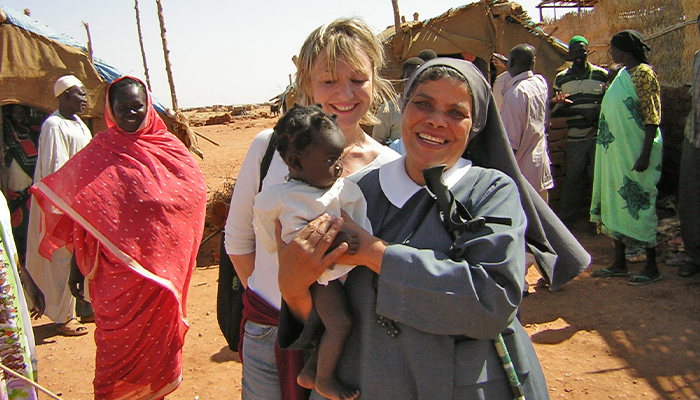 Countries where A.D.E operates since 2003
The NGO ADE is present and mobilizes its resources when there are needs in emergency situations such as natural disasters, attacks… (Haiti, earthquake in Nepal, attacks in Nice, Ukraine with the city of Nice.)
55 tons of fruit or 250,000 fruits sold one by one by volunteers to thousands of people during events => more than 100,000 people received a meal every day in an emergency center.
Burkina Faso
Development of an agricultural program to ensure food security and soil's
conservation in the village of Namoukouka.
Haiti
1 meal per school day for 12,000 primary and secondary pupils;
1 meal per day for 300 university's students;
Co-financing the running of primary and secondary schools and of a University;
17 boxes of school supplies distibuted to children.
Madagascar
School repair project and a dispensary for medical assistance.
India and Thailand
Purchase of school supplies and uniforms
School sponsorship project
Nepal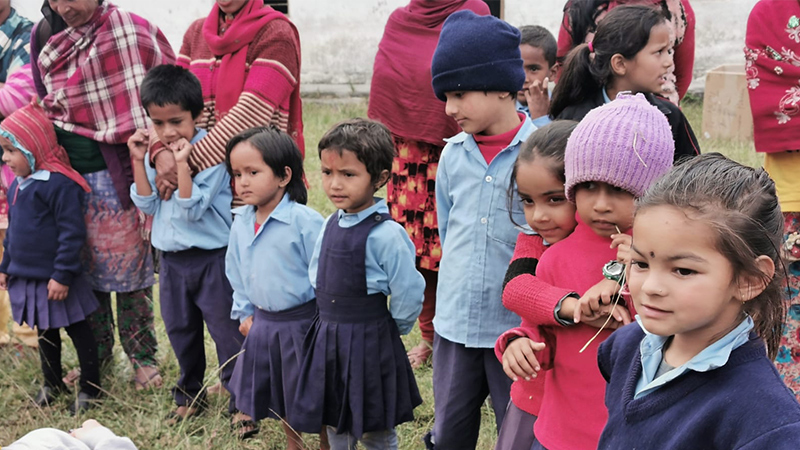 Purchase of school supplies and computers
Project: Construction of an elementary school and a dispensary for medical assistance in
Pokhara.
Soudan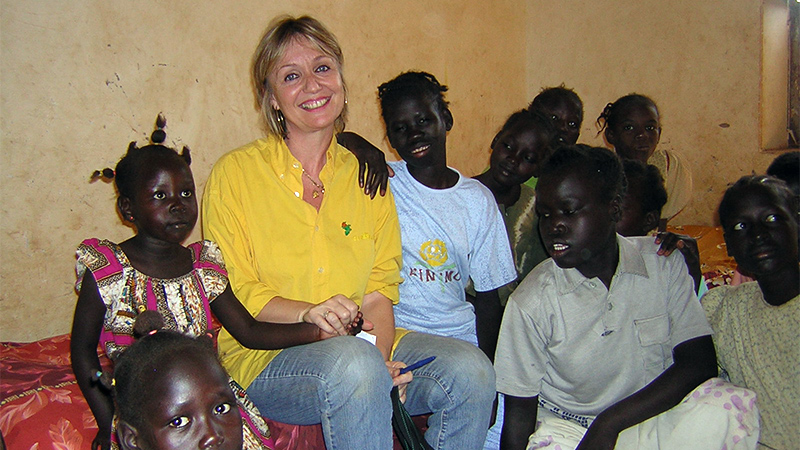 A bowl of cereals (rice, bread or lentils) 3 times a week for 8,000 children under 7 years old, in 20 centers of 400 children each;
A program to supply drinking water: portable cisterns freely distributed more than 120,000 liters of water per day for over 100,000 beneficiaries. Upon Kamal Tadros's request, former general secretary of St Vincent De Paul World, A.D.E financed an entire water program in Juba in January 2018, which provides drinking water to thousands of people;
Co-financing and running 18 food banks and 3 homes for street children;
An agricultural program to help manage the Saint Vincent de Paul social centers (SVDP);
216 children coming from the farm study at university; 16 street children go to schools and are fully cared until they reach vocational qualification; 456 children go to primary schools and 177 go to kindergarten. 47% of primary schools pupils and 50% of secondary schools pupils are girls;
Distribution of school materials to primary and secondary schools;
Financing the construction of the SVDP hospital and co-financing the running of the
health center. Medication distribution for 16 years;
Financing of 3 mobile clinics and 4 dispensaries for 50,000 follow-ups and obstetric care for 4,000 women; The mobile clinic gives assistance to women in the desert in Juba: Gynecological care and childbirth.
A center for disabled children, a home for young girls;
The CSSV hospital phytotherapy project to focus on local self-sufficiency and to protect the environment and preserve traditional knowledge;
Care for women in prison with their children as well as social and legal assistance for
their rehabilitation;
Vocational training for 2,000 adults, half are women;
355 young people have access to training with 7 different choices, 40 women learn how to manage a family farm.
France
Fruits sales for the benefit of disadvantaged children around the world;
School support for disadvantaged children in primary and secondary schools;
Organising conferences in schools and universities
Co-financing an MRI game for children at Lenval hospital, Nice, France;
Helping to buy a wheelchair for a disabled person
Project for the construction of an autistic children's center;
Helping to fund a vocational center for young adults in Fréjus;
Raising awareness in companies, raising awareness of human development with the aim of protecting the environment, among young people. Monitoring projects in business schools, universities and schools. Program aimed to public and women in difficulty as well;
Participating in medical costs for a serious operation on the spine of a 22-year-old woman;
Self-image workshops for women in Nice prison.
Setting up a Mobile clinic in Europe.
School sponsorship in Kerala, India: Support to young girls of the Amrita Niketan Orphanage managed by Amma and her NGO "Embrassing the World".
Support to local NGOs to provide education to young destitute girls in Pokhara, Nepal.